You are here
Preschools SHINE Nutrition and Physical Activity Forums
Preschools SHINE Nutrition and Physical Activity Forums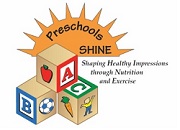 Register now for the California Department of Education's (CDE) Preschools Shaping Healthy Impressions through Nutrition and Exercise (SHINE) program is offering four Nutrition and Physical Activity forums statewide. Each forum will highlight and demonstrate methods for integrating nutrition education, edible gardens, and physical activity into child care center classrooms and day care homes.
Participants will learn ways to create learning environments that maximize opportunities for children to develop healthy eating habits and to move their bodies to learn. These forums will provide a unique platform where early childhood educators can express challenges and develop solutions toward supporting active living and healthy eating environments.
All attendees will leave having received a variety of tools and resources that can immediately be utilized in the day care home or child care center classroom.
For more information regarding the forum, please refer to the table of contents below.

Table of Contents
Dates and Locations
Location

Date

Time

Address

Roseville

Saturday, May 3, 2014

8 a.m. to 5 p.m.

Maidu Community Center
1550 Maidu Dr.
Roseville, CA 95661
Phone: 916-774-5950

Santa Fe Springs

Saturday, May 17, 2014

8 a.m. to 5 p.m.

Los Angeles County Office of Education (COE),
Head Start Location
10100 Pioneer Blvd.
Santa Fe Springs, CA 90670
Phone: 562-401-5365

Merced

Saturday, May 31, 2014

8 a.m. to 5 p.m.

Merced COE
632 West 13th St.
Merced, CA 95341
Phone: 209-381-4555

Oakland

Saturday, June 14, 2014

8 a.m. to 5 p.m.

Oakland Marriott City Center Hotel
1001 Broadway
Oakland, CA 94607
Phone: 510-451-4000
Agenda
This forum offers participants an opportunity to help chart a new future for our children by showcasing how to make early childhood programs "SHINE". Attendees will be provided with tools, resources, and ideas that can be implemented immediately. Time will also be devoted to discussing challenges and developing solutions toward promoting nutrition and physical activity in early care programs.
Time

Agenda Item

8:00 a.m.

Registration

8:30 a.m.

Welcome
Facilitators: The CDE and WestEd Staff

8:45 a.m.

Wellness Policies
Facilitator: Jennifer McNeil, RDN, SNS

10:15 a.m.

Break

10:30 a.m.

Breakout Session 1:

Using an Edible Garden Classroom
Facilitator: John Fisher or Carol Hillhouse

Active Bodies, Active Minds
Facilitator: Patty Kimbrell

12:10 p.m.

Lunch (off-site and on your own)

1:10 p.m.

Breakout Session 2:

Discovering Fruits, Vegetables, and Grains
Facilitator: April Cunningham

2:40 p.m.

Break

2:50 p.m.

Breakout Session 3:

Using an Edible Garden Classroom
Facilitator: John Fisher or Carol Hillhouse

Active Bodies, Active Minds
Facilitator: Patty Kimbrell

4:30 p.m.

Summary/Closing/Evaluation:
Facilitators: The CDE and WestEd Staff

5:00 p.m.

End of Forum
Session Descriptions
Practice makes perfect, but policy informs the practice. In this session, we will discuss what constitutes good policy and will develop policies related to nutrition education, gardens, or physical activity. Attendees will also have an opportunity to ask questions and together develop solutions to challenges being faced.
Using an Edible Garden Classroom
A garden, however large or small, provides young children with endless opportunities to explore the natural world, harvest and enjoy healthy fruits and vegetables, and engage in meaningful learning. In this session, we will discuss preschool garden design, helpful resources for garden educators, and related children's literature. Participants will sample hands-on, garden-based nutrition activities that engage children's curiosity and enthusiasm while introducing them to healthy eating and basic environmental science. Each activity will be linked to the Preschool Learning Foundations.
Active Bodies, Active Minds
Young children show us how active their minds and bodies are every day. As facilitators of play, we need to be intentional and integrative in our approach. This workshop will build on the Preschool Nutrition and Active Physical Play
course. We will explore the importance of physical activity and active play, how much physical activity is appropriate for young children, the integration of nutrition and school readiness skills disguised in fun activities, as well as the benefits of yoga for children and adults. Attendees will receive fun-filled compact discs with a variety of songs for movement and easy-to-use physical activity props. Each activity will be linked to the Preschool Learning Foundations.
Discovering Fruits, Vegetables, and Grains
This hands-on session will demonstrate ways to incorporate nutrition throughout the preschool day using the Food for Thought curriculum. The curriculum's 32 lessons incorporate math, science, and literacy concepts and are aligned with the Preschool Learning Foundations and the Desired Results Development Profile©. The Food for Thought lessons are easy to follow and lots of fun. Attendees will receive one free copy of the curriculum, enabling the immediate implementation of these nutrition education activities!
Speakers At-a-Glance
Would you like to learn more about our presenters? Below is some background information about the qualified speakers for the California Preschools SHINE forums on nutrition and physical activity.
Jennifer McNeil, RDN, SNS, is the Director of Child Nutrition Services for Encinitas Union School District. She worked previously as the Assistant Food Service Director for the Hemet Unified School District and as the consulting dietitian for the Hemet Preschool Head Start Program and the Child and Adult Care Food Program (CACFP).  Ms. McNeil led her schools to 13 Gold Awards of Distinction through the U.S. Department of Agriculture's (USDA) HealthierUS Schools Challenge.
April Cunningham worked as the Food Program Coordinator for the Child Development Program at the North Coast Opportunities Head Start Program in Ukiah, California for 24 years. In this position she monitored the CACFP, trained staff and parents, and provided support to families who faced nutritional challenges. Her program was awarded a USDA Team Nutrition Grant through the CDE to develop the nutrition education curriculum for preschoolers, Food for Thought. She currently works with the Community Action Program and is involved in various projects related to nutrition education, gardening, and farm-to-fork efforts.
John Fisher has been the Educational Garden Program Director for Life Lab in Santa Cruz, California for over 12 years. He has served as the Chair of the California School Garden Network Advisory Board and has developed, implemented, and assessed the Fresh Fruits and Vegetables: A Centerpiece of a Healthy School Environment Workshops in various regions of California. Mr. Fisher brings a wealth of garden knowledge and has experience training adults and running programs for children.
Carol Hillhouse is the Academic Coordinator of the Children's Garden Program and Ecological Garden at the University of California (UC) Davis Student Farm and Agricultural Sustainability Institute. She has worked as a garden educator for over 20 years at the UC Davis Student Farm. She guides hands-on learning experiences for thousands of children, youth, teachers, and other professionals. She works with student staff to manage a half-acre garden and leads workshops on school gardens, increasing fruit and vegetable offerings in schools, and garden-enhanced nutrition education.
Patricia A. Kimbrell, M.Ed., is an author, director of videos, and national consultant who travels around the country presenting on physical activity, childhood obesity prevention, motor development, and family engagement. She was a faculty member at the San Diego State University for 12 years where she instructed future teachers in elementary physical education. She believes if an appreciation for movement and healthful eating is developed at an early age, it may continue for a lifetime of wellness.
The primary target audience for the Nutrition and Physical Activity SHINE forums are child care teachers and family child care home providers. Making changes or improving the nutrition and physical activity environment at an early learning site requires a team effort. We encourage programs to send a team of two teachers and the director of the child care center. Day care home sponsoring organizations are encouraged to invite up to three providers plus a monitor. Trainers and resource staff in early child care and development programs are also welcome.
Forum registrants/participants are encouraged to complete the Preschool Nutrition and Active Physical Play
online course on the Healthy and Active Preschoolers Web site before attending the forum in order to be familiar with the jargon and concepts that will be discussed. The course takes approximately three hours to complete in one sitting; however, the course is self-paced and as much time as needed may be taken to complete it. To complete the course in multiple sittings, simply make a note of where you left off in the course. Individuals who complete this course and pass the final exam earn three professional growth hours and are awarded a Certificate of Completion.
Professional growth hours are required to renew a Child Development Permit. Participants attending the full-day forum program will receive 7.5 professional growth hours to help reach professional development goals. Participants will also receive a Preschools SHINE Forum Certificate of Completion. This certificate should be retained as documentation of forum attendance.
Cost, Enrollment, and Registration
Cost: The registration fee is $50.00 per person and must be received in WestEd's office at least one week prior to the scheduled forum. The fee covers the cost of a Preschools SHINE toolkit and a light morning and afternoon snack. The toolkit includes a variety of materials including colorful fruit and vegetable photo cards, edible garden and nutrition education curricula, and physical activity resources.
Enrollment: Enrollment is limited to 75 people per training location. If you are sending a team, please limit the size of the team to the amount indicated in the Target Audience section.
Registration: Pre-registration is required and will be processed on a first-come, first served basis. Walk-ins may not be allowed to participate in the forum activities due to space availability. Enrollment is completed online. For successful online registration, here are a few things to remember:
Obtain your agency's five-digit Child Nutrition Information and Payment System (CNIPS) number beforehand.
Each person planning to attend the forum must register independently. The maximum quantity that can be selected on the Eventbrite registration Web page is locked at "1".
Print your confirmation notice and bring it with you to the forum. 
Credit card payment can be made on the Eventbrite registration Web page. Personal checks, cashier's checks, money orders, or purchase orders payable to WestEd will also be accepted as payment. Payment must be received at the address listed below at least one week prior to the scheduled training date.
WestEd Center for Child and Family Studies
Attention: Maria Lazaro
333 N. Lantana , Suite 277
Camarillo, CA 93010
To register, please do the following:
Select the registration link that matches the location where you will attend the forum (see chart below).
Read the Event Details section carefully on the registration site and complete the registration form.
If paying online by credit card, print a copy of the registration confirmation you will receive by e-mail immediately after registering and bring it to the forum.
If paying by personal check, cashier's check, money order, or purchase order, print two copies of the registration confirmation that you will receive by e-mail immediately after registering. Retain one copy and bring it to the forum. Mail the other copy to the WestEd address listed above with your payment.
| | |
| --- | --- |
| Location | Registration Link |
| Roseville | |
| Santa Fe Springs | |
| Merced | |
| Oakland | |


Cancellation and Refunds
No refunds will be issued for this event. We recognize that circumstances can occur that affect your intent to attend the forum. If you cannot attend the forum, you may send another person from your agency. To send a replacement, please contact Maria Lazaro by e-mail at mlazaro@wested.org, or by phone at 805-465-4464 or 800-770-6339, weekdays from 7:30 a.m. to 6:00 p.m.  
What to Wear
Dress comfortably. All of the sessions are hands-on and participants will be physically active, especially in the "Active Minds, Active Bodies" session. 
Contact
For information regarding dates and locations, cost, online registration, sending a replacement, or canceling, please contact Maria Lazaro by email at mlazaro@wested.org, or by phone at 805-465-4464 or 800-770-6339, weekdays from 7:30 a.m. to 6:00 p.m.
For general information regarding the forum agenda or recommended prerequisite online course, contact Lynette Haynes by phone at 916-323-2474 or by e-mail at lhaynes@cde.ca.gov, or contact Courtney Thornburg by phone at 916-324-0578 or by e-mail at cthornburg@cde.ca.gov.